Etiquette for Swingers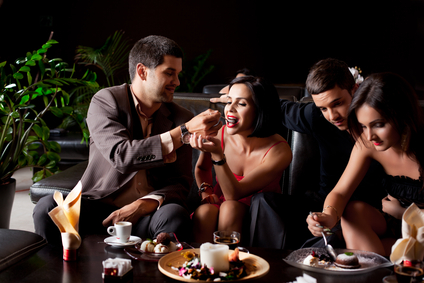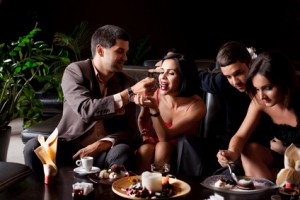 Etiquette for Swingers is paramount for success. Keep in mind that you and your partner are there together! You are a swinging couple not single people in the dating scene. A lot of times one person in a relationship will wander off and end up cheating. THIS IS NOT THE SAME AS SWINGING! There are certain rules you must abide by and maintaining trust between couples is absolutely necessary. With that being said, let's move on to our list of etiquette for swingers:
Basic Etiquette for Swingers
1. Be nice! The swinging scene is full of other people just like you. They have the same insecurities and uncertainties you do, so treat everyone with respect and sensitivity.
2. Always ask if the party host needs you to bring anything or if they need help with set up.
3. Come prepared! Bring any sexy underclothes you think you may want or need. Always practice safe sex, bring condoms and remain on birth control. Again, you're a swinging couple and it's your responsibility to keep your partner safe.
4. TAKE A SHOWER! No one wants to sleep with the stinky one. Don't be that stinky one.
5. Take no for an answer. Don't be pushy and persistent. Everyone has the right to say no.
6. You also have the right to say no. A simple, "No, thank you." Is all that is needed. No need to ramble on and explain things in depth as this may cause some issues with people who may already be feeling insecure. We don't aim to hurt feelings, we aim to please and be pleased!
7. Drinking is a social lubricant and helps with the anxiety that comes with trying out the lifestyle for the first time. Don't drink yourself into a black-out though. It's unattractive and may cause some, *Ahem* performance problems. (Hint Hint)
8. Be sure to thank the host of the party afterward. It's just polite!
Follow The Rules!
When coming into the swinger's lifestyle, these things are very important to understand and accept as a way of life. We as humans already know better than to commit crimes and not taking no for an answer is pretty obvious. But some of the rules are set in place to simply guide you along so you're not viewed as rude or selfish, You're here to be swingers and have fun, but these are people that you can connect with and actually befriend also. They are just as human as you are.
Now that you have all the etiquette to get started, get a club, become a member, find connections and start the parties. It's very common for a couple to hold off on swinging until the third or fourth party they attend. No rush, just love.
I have a Partner I am taking with me…
You and your partner should always discuss your own personal guidelines before you go to a swinging party anywhere. Always arrive with one another and leave with one another and always give your partner more attention than anyone else. Being kind and sensitive with your partner helps them to not feel awkward or insecure.
Talk about how far you will go with others as a couple and as singles. You might choose to split off during the evening and go with other swingers. Make sure you are both agreeable to this, otherwise it could cause tension.
Discretion is the name of the game with swingers. No one wants to meet a work colleague at a swing party only to have them high five you at the office the next day and shout it out to everyone. Please be sensitive to people's lifestyle and do not reveal their secrets.
Don't forget to use protection when you engage with other people. Not only do you want to avoid unwanted pregnancies but also STD's. Always wear a condom or, if you are a woman, insist that your male partner wears one.
Avoid voyeurism unless it is encouraged. Most sex clubs have some kind of voyeur options, but not all of them. Before you engage in watching others find out what the sex club or swingers' party rules are.
Be mindful of body language. Swingers often seem flirty but they might just be being polite and friendly, so be careful not to respond in an inappropriate manner if you don't read the signs rights.  At the same time, make sure you don't make others feel uncomfortable with foul or inappropriate language, both verbal and bodily.
Check out SwapFinder if you want to find a third party to 'play' with. It's a free site and it only takes a couple of minutes to sign up and you could find the swinger of your dreams!
These are all a starting point for newbies to observe. If you are new to swinging, have never indulged or are thinking about it, you will find a very friendly community of people who are like-minded and willing to share knowledge. Always be polite and respectful and you will do just fine.
Please feel free to Contact Us with any questions, comments or concerns you may have. Are we missing something? Please let us know so we can add it!
---
Meet Swingers in New York
This is the swinging lifestyle site where you meet swingers in New York. Check out our listing of New York swingers clubs.
New to Swinging?
Are you new to the swingers lifestyle? If so, be sure to browse our tutorials